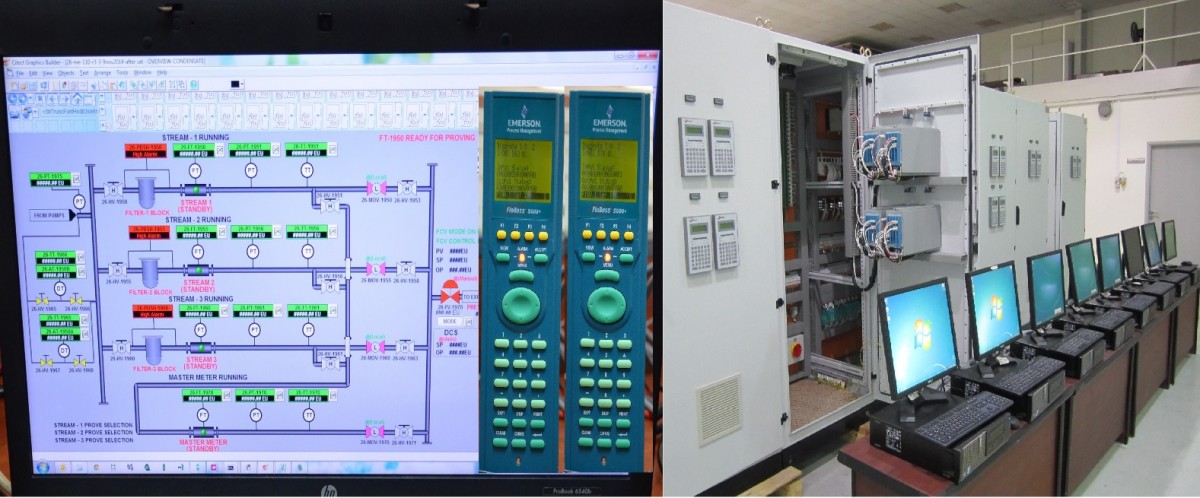 Metering Control System
loops Automation provides special applications in Flow Metering Control Systems for both new metering skids and upgrade of old metering skids.
Due to ageing of existing metering systems, several oil & gas operating companies have identified the requirement to upgrade existing metering control systems (technological life between 10 to 15 years and retaining existing metering skids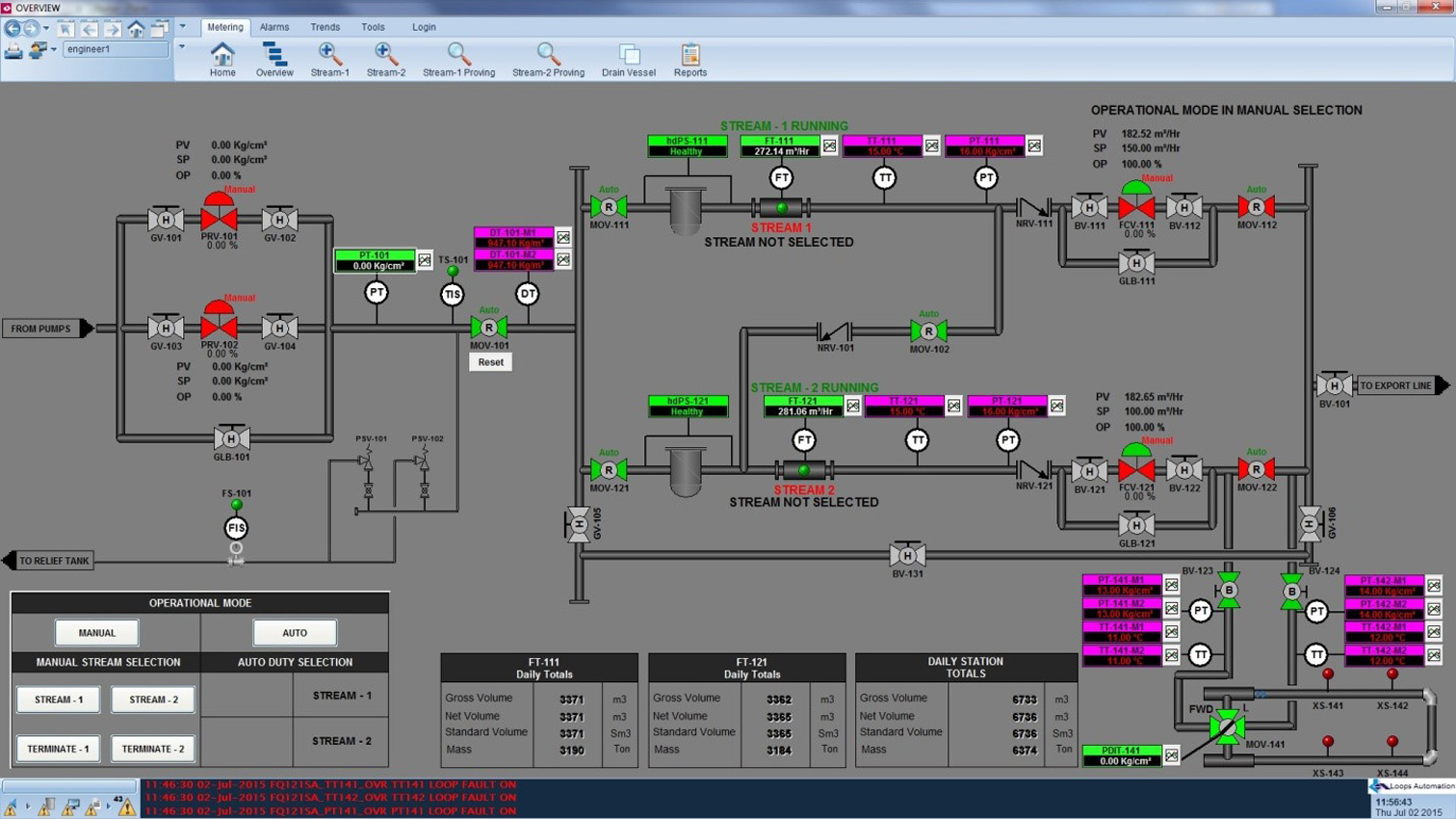 Metering Supervisory Computer (MSC)
The flow computers shall have dual (serial or ethernet) communication links to a single metering supervisory computer (MSC) that is loaded with an HMI package designed for gas metering applications.The MSC shall be placed on an operator console suitable for the location.A printer shall be provided along with the metering control system. The printer may be installed in the flow computer cabinet or on the MSC console. Reports shall be sent directly from the MSC to the printer. Daily tickets shall be generated automatically every midnight and up on a manual request. Provisions for printing reports directly from the flow computers upon a manual request shall be provided. The primary gas metering system shall communicate to OSPAS using a modem connected to the MSC to read/write data, close the EIV or change the settings of the control valves. The list of data for communication with OSPAS including alarms shall be specified in the project documentation.
BROWN FIELD UPGRADES
Loops Automation have special interest for upgrades of metering & control system. We have a separate team for meeting the requirements of client aspect. It will increase the production capacity of the client. We are getting lots of enquiries for upgrading the existing System. Loops Automation's qualified engineers doing site survey, studying the flow metering skid and upgrading the mechanical, E&I and control system to meet the current requirement of the client. The upgrades includes, increasing the capacity of the flow measurement by adding new flow meter run to the existing meter skids, changing the meter type from turbine flow meter to PD meter, orifice gas meter to ultrasonic gas meter, adding check metering for gas application and dedicated master flow meter run to liquid applications. Also upgrading the flow computer as per the aspect of the client.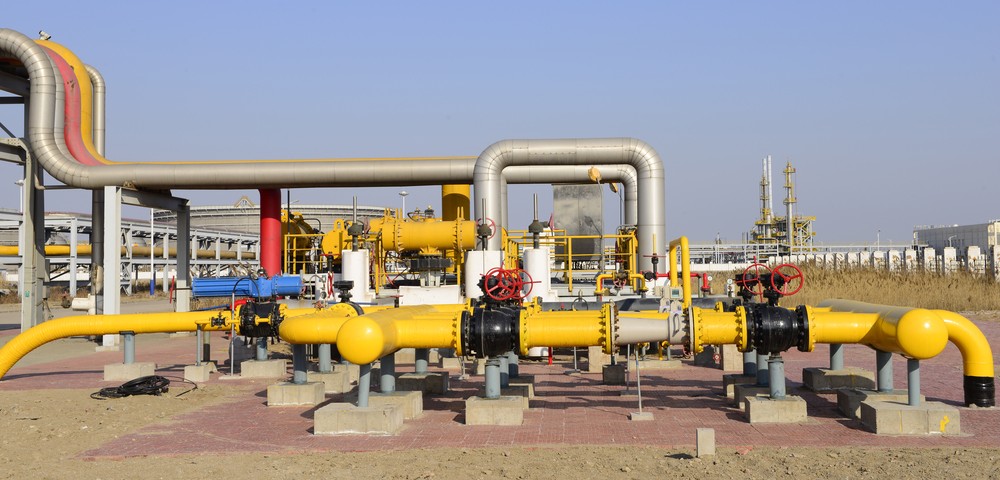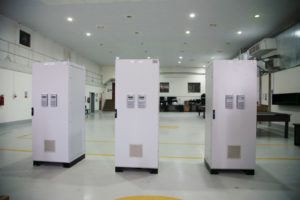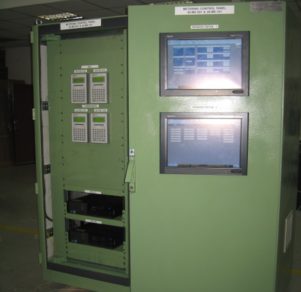 Upgrade of Outdated Flow Metering Panels
We have developed in-house applications covering custody transfer metering systems for oil and gas. Our experience and competence cover all major flow computers and batch controllers for custody transfer, truck and ship loading and unloading metering skids.
We also offer specialized PLC/HMI systems fully integrated with the flow computers and provers (small volume compact and ball provers).
Our services cover carrying out detailed site survey to collect data, analyze it and provide recommendations to identify and rectify existing operational problems related to metering skids and / or metering panels and provers.
We also provide maintenance contracts of existing metering skids (having various type of flow meters and flow computers).
Interface with DCS and SCADA Systems 
We provide complete interface and integration of metering control systems with existing DCS and SCADA systems. Our capability and experience in both control system integration and metering systems provide comprehensive service to operating companies to ensure adequate integration using various type of communication protocols and media.We also provide remote monitoring and operation of metering systems via wireless (Radio and GSM/GPRS) as part of SCADA or remote coordination center..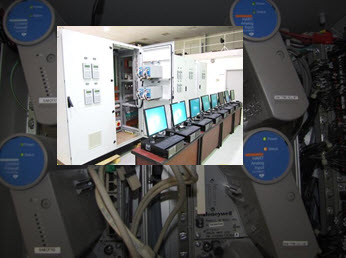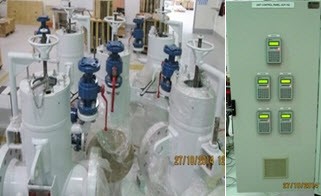 REHABILITATION OF UNDERGROUND STORAGE METERING STATION
Design, engineering & supply of metering control panel with OMNI flow computers forLPG custody transfer flow measurement application, Replacement of existing filedInstruments &equipment.
UPGRADE OF OBSOLETE METERING SKID FLOW COMPUTERS AND CONTROL PANEL
Design, engineering & supply  of new flow metering control panel assembly for NGL  & condensate metering skids with 5 OMNI flow computers, counters, DC power pack,  I/O barriers, relays & circuit breakers.